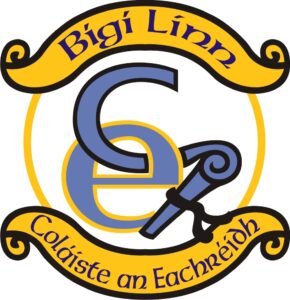 A thuismitheoir/chaomhnóir, a chara,
Beatha agus sláinte. The State examinations are upon us and students will begin with English next Wednesday, 8rd June at 9.30am. Students are required to be in attendance at least 15 minutes before the start of each examination and, on the first morning, at least 30 minutes before the examination commences.
Buses will operate during the period of the examinations. Please note that bus times will be slightly later for both morning and evening pick-ups, therefore, students are advised to check with the bus drivers regarding any time changes. Evening pick-ups will follow the Leaving Certificate timetable.  Junior Cert students will finish evening papers at either 3:00 or 3:30pm and, if waiting for the bus, they are to remain on the school grounds as normal.
Students are required to present in full 'school uniform' (no notes please) for all examinations and to adhere to school rules as normal i.e. behave in a mannerly, orderly fashion.
Junior Cert Students will have a 2 hour or 2.5 hour break between morning and evening papers. They are encouraged to bring a substantial lunch and may with their parents'/guardians' permission shop locally.  If you wish to bring,or let, your son/daughter home between examinations, please inform us, otherwise students are requested to remain at the Coláiste as normal.
Leaving Cert Students may come and go as they please.
Students are strongly advised to remain in the examinations hall for the full duration of time allotted, read over their answers, attempt optional questions etc. Students will have access to 'study-rooms' between examinations.
As students complete individual examinations, it is best to focus on the next examination. Plenty sleep and healthy food is advised.  Parents are asked for their cooperation in ensuring that students adhere to the directions above, present in uniform, are punctual, and have relevant equipment (pens, pencils, erasers, calculators etc.) I would like to take this opportunity to wish all our students the very best in their examinations. Go n-eirí libh!
 Examinations timetable below
Click on the icon to view.